I have been blogging off and on for a few years now and honestly sometimes I find I get so busy with that thing called "life" that I lose track of blogging. Well I finally found my passion!!!! Ready for it!?!?!?!?
PRESSURE COOKING!!!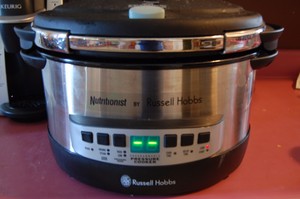 If you have never pressure cooked, you are in for a journey. I made my first meal in my pressure cooker a couple nights ago and let me tell you.....I've been missing out and so are you!!! (if you don't already pressure cook) The cook time was amazing for frozen....yep FROZEN food. I always hate when I am planning to cook something and forget to set it out to thaw. You know I am not the only one that does that....you know who you are if you do the same thing as me. Now no worries if it isn't thawed. It won't take forever to cook...I promise!
Lets start out basic. I was interested, yet slightly terrified of using a pressure cooker. They've come a long way from the ones your grandmother or mother may have used when you were growing up. I decided to give it a shot and man am I IN LOVE!!! So let me get you going with something super basic....that's what I did...lol.
I wanted to cook with it but thought "I don't want to have to go to the store to buy a bunch of ingredients to make something fabulous." (I have 4yr old twin girls so going to the grocery store with them is always an adventure that honestly I dread....lol) So I decided to just look and see what I had that I could throw together for a pretty basic starter meal, just so I could try it out and see if I even liked cooking with a pressure cooker. Here is what I did....
Chicken & Rice (this is my own made up version)
4 frozen skinless chicken breast
2 tbs olive oil
1 small onion diced
2 cups of chicken broth (or you can use water...I like to use stock instead for better flavor)
1 can cream of chicken
1 cup of uncooked rice
and add your own seasonings to your liking....(I used garlic, onion powder and just a little steak seasoning for flavor)
First you will put the olive oil in the pressure cooker and put it on the "Brown" setting. Then you will add your onions and chicken breast and just saute the onions with the chicken. I did the chicken about 3-5min on each side. (The idea is not to fully cook the chicken but to get it going) Then I put in the broth/stock, cream of chicken, rice and seasonings. Put your lid on and lock it down. Put it on high cook setting and set the timer to 20 minutes. That's it....20 MINUTES!!! Walk away! It was that simple.
(it does take a few minutes for the pressure to build up and the timer to start counting down)
The house smelled amazing while it was cooking and honestly I was quite hesitant that it would turn out without the rice all burnt and stuck to the bottom. The timer went off and I released the pressure with the pressure release valve in small bursts until it was safe to remove the lid (mine has a button that depresses to let you know the pressure is at a safe amount to open your cooker). I removed the lid and to my surprise....it was BEAUTIFUL!!! The rice was just perfect and the chicken....OH...let me tell you....falling apart and so juicy! My husband was super impressed....and he doesn't even like rice hahaha. But he does now!
What will I cook tonight???? CHICKEN TACOS!!!!
Check back tomorrow for the recipe and my review on how well it cooked up in the pressure cooker.
Special shout out to my friend Amy Cassels who loved cooking with her pressure cooker so much that her videos of her using it made me want to try this wonderful gadget!!